Recently, one of my friends asked me how someone so skinny as me could be so cruel as to take up a fattening cupcake hobby. I've been asking myself that question a lot recently as I rack up the mixer mileage and I think the answer is simple. I love to make cupcakes. Truly. I do.
Will my new obsession undo all the hard work I've done? Perhaps. I tend to think that the muscle I've accumulated over the last year or so will hopefully make it possible for me to ably process the added caloric intake of the one or two cupcakes I eat out of every batch I make. But I'm not sure, really.
Anyway, ages ago when contemplating what to do with my life I seriously considered attending the culinary arts program at the technical college here in town. At the time I was afraid to have to start from the very lowest end of the totem pole in the professional kitchen and also afraid that undertaking my passion professionally (i.e. - be a slave in someone else's kitchen) would kill the joy. I may have been wrong but I guess at this point I've chosen my path and I'm more than fine with it. But the fact remains, I love coming up with new and interesting ways to serve food and lately that love presents itself in a little brown natural paper cup. With frosting.
So today I present to you a rather cobbled-together recipe. It's worked before a la some pumpkin-dark chocolate cupcakes I made last fall for my ex's friend's birthday party and here's hoping. The cupcakes are in the oven now and soon I will attempt to adapt a cream recipe using a random blog entry and a solid recipe. Let's see what happens - shall we?
I present for your consideration the method:
Coconut & Lime's Chocolate Cupcake recipe
- with a few noteworthy additions
Basically I followed the recipe verbatim excepting:
1. I added about 1 tbsp. blueberry juice concentrate to the milk & vanilla mixture
2. I added about 1.25 oz. of Trader Joe's Belgian-style dark chocolate,
very
finely chopped to the final batter
Here's one of the first batch out of the oven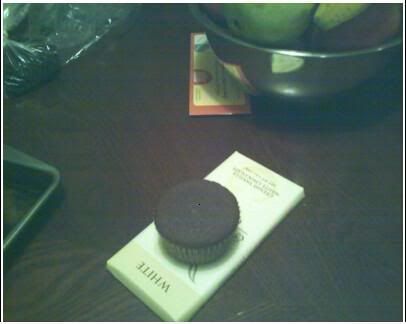 I think I underfilled the cupcake wrappers on the first batch. I think they look a little anemic.
But apparently, the second time's the charm.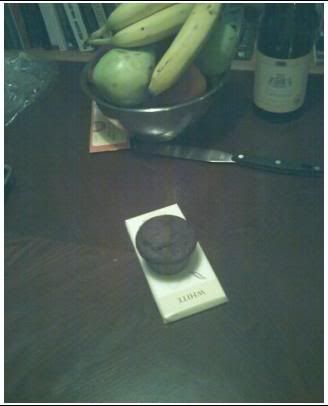 On deck, Chockylit's Basil or Mint Cream recipe
becomes Jenn's Blueberry-Lemon Cream by way of mixing Chockylit's recipe with a blog entry from
Joseph Hall
on the subject of simple syrups. Noteworthy additions being that I used 1 cup blueberry juice concentrate, the juice of a whole lemon and about a full tablespoon of rosewater, which I heated until 1 cup of sugar dissolved. I will mix this with the whipped cream.
Now, the cream recipe I doubled. Two cups of heavy whipping cream and I think I actually only used 8 tbsps of the blueberry syrup to fold into the cream, however.
Results:
Well, as it turns out, over-working your cream can be... uhm... interesting. One moment it's fluffy and light and glossy and gorgeous... and the next... it's REALLY fluffy and heavy. As I beat the simple syrup in to my cream I discovered this interesting little tidbit. I think next time I'll just fold it in with the spatula. None the less tasty for the wear, tho. I'll say that about it. I may or may not have sampled a, uh... little bit.
I spooned the "fluff" into the cupcake cavities. Another thing I learned - if you make small cupcakes like I do, use a small knife and be quick and shallow with your cuts. Otherwise you end up digging a little hole in the poor thing anyway and possibly take out a sidewall. After putting the tops back on, I turned my attention to making the mint chiffonade and melting my white vanilla chocolate. (God bless
Green & Black
) It melted nicely and I then spread a small circle of white chocolate on top. For this application I melted about 3/4's of a 3.5 oz. bar in a double boiler and worked it a bit until it was smooth.
For the decoration I used up almost a whole package of the mint leaves you find in the produce section, and created a
chiffonade
, I rolled the leaves the long way to create the long ribbons. And pressed some dried organic blueberries on top of that.
Here is the final result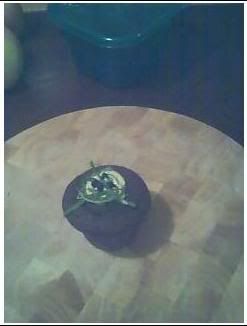 Behind the little piece of gorgeousness you'll see the evidence of my pack-rattery. I could NOT bring myself to throw away the bits of chocolate cupcake that I cut out to make room for the cream. Why? What am I going to do with them? I don't know. And also, I don't know.
I must say I'm pleased with the final result. (A single girl standing alone in her kitchen, shoveling a cream-filled cupcake into her maw late at night might traditionally be cause for concern on a man-related depression issue, but I think I deserve an exception. Slaving for 6 1/2 hours seems to me to create a justified sense of entitlement.) Although you can't outright taste the lemon and the rosewater, you can taste a tang which
might
be attributable to the lemon. The cupcakes are light and fluffy so thank you again for a great recipe to start from, Rachel at Coconut & Lime. Hopefully the retiree I baked them for appreciates how hard I worked for her. It's 12:30 now. I have to be across town by 7:30 - 7:45 tomorrow which means I need to be up around 5. And this morning I had to be AT an event at 7:00. I woke up at 4:00. Yikes! Sleepiness.