K: Anthropologie. Third ward. Early 2008. It's official
JA: Fuck. Might as well declare bankruptcy now.
K: I know right. And how wonderful it will be.
JA: Totally. I think we should consider hiding our credit cards and starting hooking. Blog title idea: Anthro-whores.
K: Works for me. We will only accept gift cards as payment for our dirty deeds. Amounts and quantity negotiable.
JA: We'd have to accept cash gifts too - we'd have to parade our fab kits. (What do you think I would have had to do to get the Doyenne boots from this winter?)
K: True. And I don't know. How badly do you want them?
JA: Somewhere between pack o horny midgets & aging swinging hipster couples. I'm not sure, I'd have to see 'em again.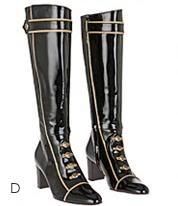 (Retail: $798)
K: Not sure how easy it would be to find a readily available plethora of horny midgets... You might do better with hipsters. But you could definitely earn enough.
JA: OR we could just start a site for other anthro-whores to hook up and get their Anna Sui fix and get all our booty from the ad sales... just a thought.
K: We could be the new gofugyourself girls. Except instead of commenting on other's fashion faux pas, we could make them in the name of quality clothing stores.
JA: AWESOME!! Who would you pick as your avatar? Dude, I have to be Chloe Sevigny... or should I be Bai Ling?
K: Damn. If I can't have Bai Ling, I'd definitely take la-lohan.
JA: Isn't there a tacky Jewess? Well, I suppose nobody gives a fuck about Fran Drescher anymore.
K: Right. I can't think of any but I think we could make la-lohan honorary just for our cause.
JA: Very well. I dub thee la-lohanukkah.
K: Would that make you Bai Lingmas?
JA: I think I'm really more of a Scarlett-go-bragh-less kind of lass.
K: Well played.
Indeed. Amusingly, during the latter half of this conversation I was in the middle of reading an article in the Sunday Styles section of the Times.
"Buying Into The Green Movement: Eco-friendly shopping may be fashionable, but critics argue it won't reduce global warming"
I had just reached the section about a San Francisco group called
Compact
whose members have taken a vow of poverty, I mean, uh... they've vowed to live one entire year purchasing only food and medicine. I was just reading about a professional dog-walking girl who counted a new pair of running shoes among her errant purchases.
I hadn't even taken one trick and I still felt like a whore. I thought to myself, "If they knew how much crap I'd bought last month alone there would be a LOT of finger wagging."
Now though, I have a question - if you're only allowed to purchase food and medicine - what do you do if you have a cat? Homemade cat food? Or does that count among your food purchases? Or better still, what about kitty litter? Huh? Spend a whole year raiding children's sandboxes? Well, you can't. Because people caught on that strays were using them for just that purpose and filled everything with wood chips and sealed it over with recycled tires. And it said nothing of toiletries. Licking those girl's ears must be, erm, tasty.
Whatever. I'm sure my "carbon footprint" is dark and indelible. *le sigh* A thousand lashes with a wet spelt-flour noodle.